Enclosure design service
We are providing the Enclusure design service using a 3D design skill by SolidWorks program.
Our own steel machining center can be used for metal cutting process controled by CAD data.
KoyoDenshi's production support division specializes in the following tasks:
・Steel manufacturing
・Sheet metal bending
・Metal machining (stamping, milling, etc.)
・Powder coating of metals
・Welding assembly
・Letter painting
・Surface treatment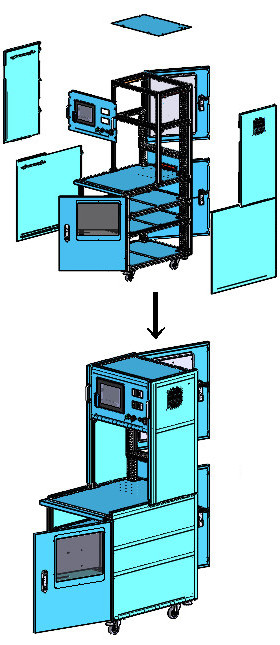 Selection of materials for electronics enclosures
Our experience in prototyping and production of advanced electronics helps us choose the
optimal materials, taking into account the enclosure design and needs, the client's preferences and the
chosen price range.
We are ready to work with many types of steel materials:
・Alloys
・Aluminum
・Stainless-steel
・Steel
・Copper
・Epoxy Resin

Case design area example
Application

・Industrial machinery in general
・Machine cover
・Control panel
・Factory equipment
・Design signboard
・Metal design processed goods
・IoT edge device
・Measurement Instrument resin case

*Available in a wide range of fields