Industrial design engineering service
  We also develop and design mass-produced products. Develop products that anyone can operate easily on the premise of being used by a variety of users.
  We also carry out the selection of parts that can be stably supplied for mass production and durability tests that are intended for use in various environments.
Our design services include the following:
  ・Schematic diagrams and PCB design
  ・3D (SolidWorks) modeling with 3D printer
  ・Hardware simulation, test, analysis and modeling
  ・Hardware development of drivers for Embedded
  ・Management of provisioning devices and verification control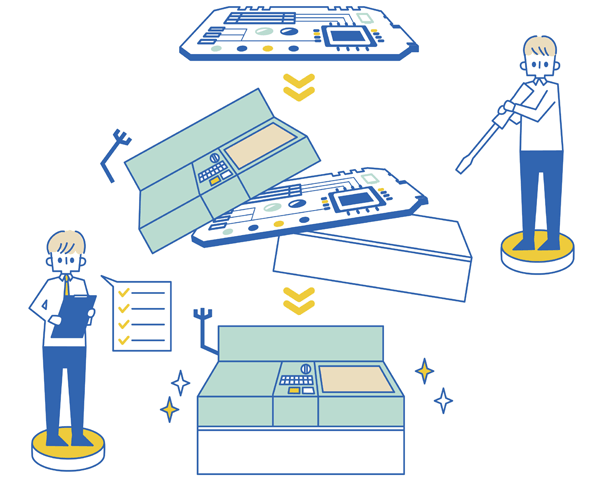 Examples of service
Development of prototype (Prototyping)

・3D CAD design / 3D printer resulted by SoildWorks
・Production of prototype as same close to with mass production
・Production of operable demo samples

Development of mass production machine

・Components selection (purchasing of Components with a long production period/proper processing
 for electronic equipment case/ appropriate material selection)
・Circuit test (Analyze the electrical parameters of the complete circuit)
Why our clients order industrial design at KoyoDenshi ?
・Analysis of prototypes of the new designs as well as enclosure development in accordance
 with client specifications and the latest market trends.
・An efficient team of a designer, an engineer, and a production technician collaborating through all stages of the project.
・Confidence inspired by our vast experience, and our track record of successfully completed projects in industrial design, engineering,
 and production launch.
・By choosing the optimal production base for prototype production and mass production and outsourcing the basic technical process to
 an external specialized company, you can choose the best contractor for each work.
・Use of state-of-the-art technology for plastic enclosure design.